︎ the future of reaching nature
︎ walker pass, california


As the technology is rapidly evolving, autonomous vehicles lie on the verge of bringing change to our paradigm of road trips. People will not drive in the near future and hence will be less aware of their surroundings. A nationwide system of architectural invitations along the roadside is proposed that will promote a renewed understanding of the national landscapes by revealing the history, ecology and culture of these regions.


The underlying idea of strategically framing these landscapes in-between a series of vertical elements is used to create these stops. The experience begins with an invitation to walk through the site, slowing down pace to provide engaging perspectives at a human scale. Rammed-earth is used for these elements which reflect the vast expanses of the landscapes in its horizontal texture.
Site plan and respective perspectives of (i) Former Speedway Hillsville, VA; (ii) Grain field in Finney County, KS; (iii) Conveyor crossing. Black Mesa Coal Mine, AZ; parts of a country wide system of rest stops.
A similar concept is applied at a larger scaled stop that includes hotel accommodations and a restaurant. Located along the Walker Pass trail in California, this site acts as a relaxing and an energizing environment for the hikers as well as passersby on a road trip respectively.


The functions are separated into different volumes to allow an unobstructed path for the hikers, a balance between public and private spaces as well as to embody the design of the rest stop system. The form of the roof is inspired by the mountainous surroundings and highlights views of the landscape as one walks through the site.





A site plan and exploded axon drawing highlighting program as well as their relationships across the site.



A perspective that showcases the walk from the lobby into the lodging area highlighting the 'courtyard' where the hikers' as well as logers' would meet and interact.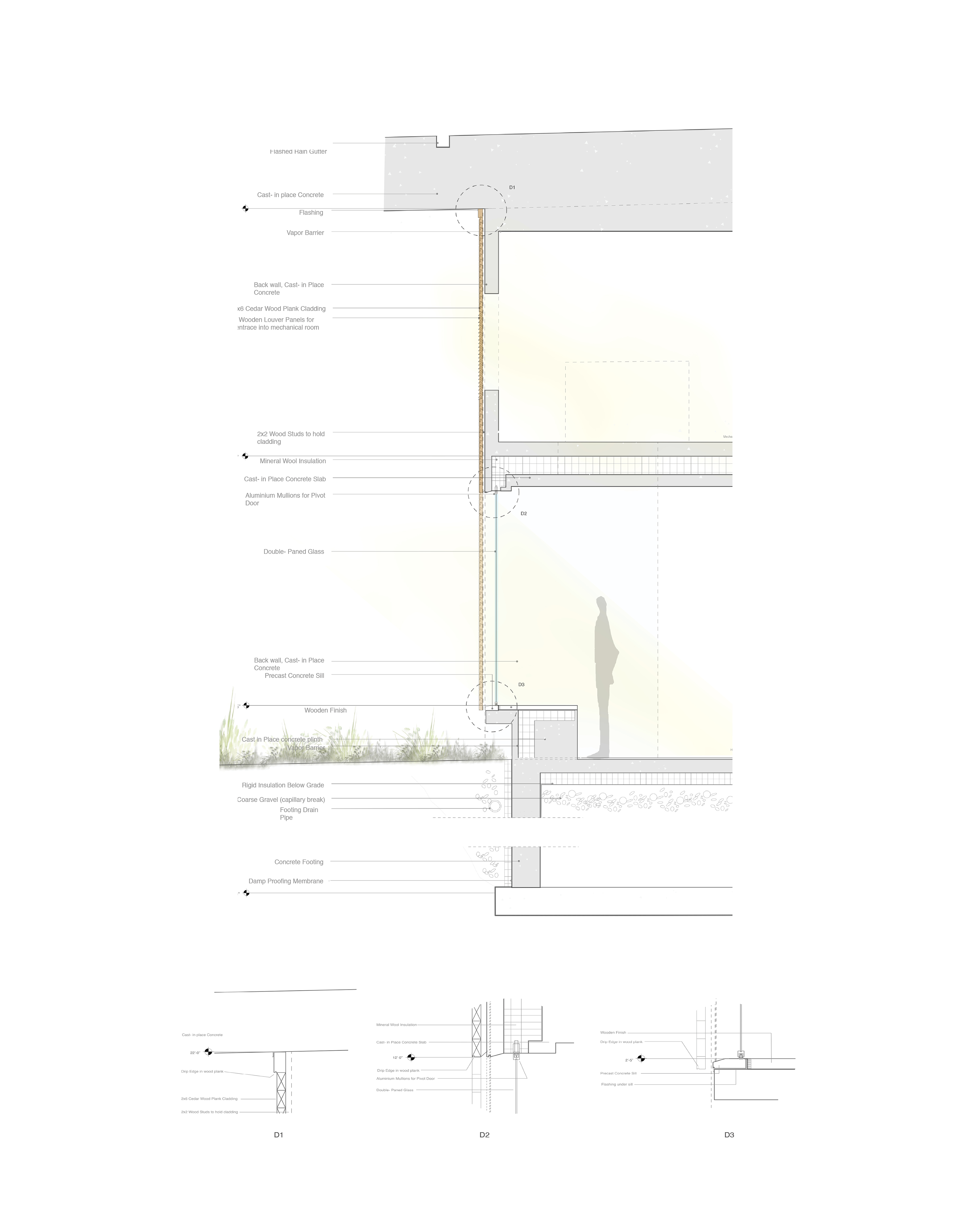 different perspectives that showcase how the walls and roof frame the landscape in accordance with the concept of th overall reststop system.
(left) Details and Wall section exploration focusing on mechanical systems, natural ventilation and material interactions to each other as well as natural elements.